Template Package
template_j3_VERSION.zip
Free Joomla template based on Helix Ultimate Framework and the template itself included 50+ Extra Add-ons.
Quickstart Package
NAME_quickstart_j3.zip
A demo package is a full Joomla installation. It includes Joomla, the theme, 50+ extra addons and sample data responsible for the layout and setup of our demo. This is great if you don't want to start from scratch or if you would like to have a peek at how everything is put together. After the installation you can start modifying the demo website with all the pages, addons and settings.
Add-ons Package
extra_sppagebuilder.zip
The Zip file contains 50+ extra addons, the compiled CSS and JavaScript files, which is everything you need to get started. You can use this package if you already have an existing Joomla template :).
Folder Structures
| Folder | Description |
| --- | --- |
| /addons | Contains 50+ extra addons. |
| /fields | Contains the php file to define uikit icon library. |
| /css | Contains the UIkit CSS and 3rd party css files |
| /js | Contains the UIkit JavaScript and the Icon Library JavaScript and 3rd js files. |
Installation
Extra Add-ons are fully compatible with SP Page Builder FREE and PRO Edition to help you create a wonderful site.
Extra Add-on requires the SP PageBuilder component, You need to download and install SP Pagebuiler Free/PRO edition, head to the developer website to learn more.
There are three ways to install Extra Addons:
Install Joomla and download just the template package which included Extra Addons for a clean start.

Download and install the Quickstart Package. Your website will adopt the whole look of the demo website, including its addons, sample content and settings.

Implement extra add-ons for your existing Joomla Template (take a look the section below to learn more)
Note A demo package basically is a complete website and includes Joomla itself. That's why you can't install it into an already existing Joomla installation.
---
If you have an existing Joomla website with your own template, simply download extra_sppagebuilder.zip package then extract it to your local computer .The Zip file contains 50+ extra addons, the compiled CSS and JavaScript files, which is everything you need to get started.
Upload addons folder to joomla-root/templates/template-name/sppagebuilder/

Upload fields folder to joomla-root/templates/template-name/sppagebuilder/

Upload css folder or copy all css files inside css folder to joomla-root/templates/template-name/css/

Upload js folder or copy all js files inside js folder to joomla-root/templates/template-name/js/
Important
Create a new
sppagebuilder
folder inside your template folder if it does not exist
---
Open the Joomla Control Panel and click on SP PageBuilder -> Add New Page (or modify your existing pages) -> Click Addons (Add New Addons) -> select WarpTheme tab (in the sidebar menu on the left) to see over 50+ extra addons.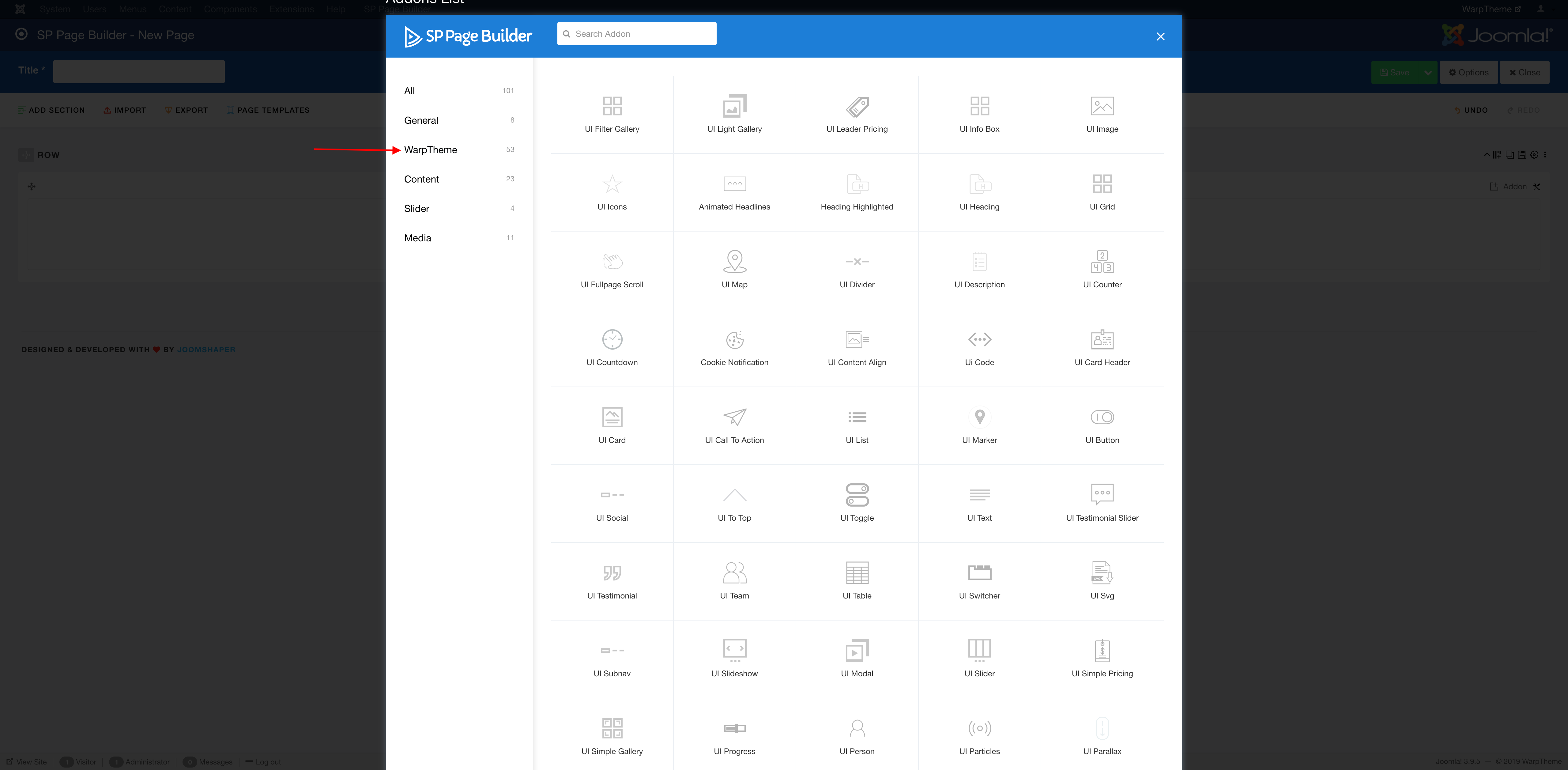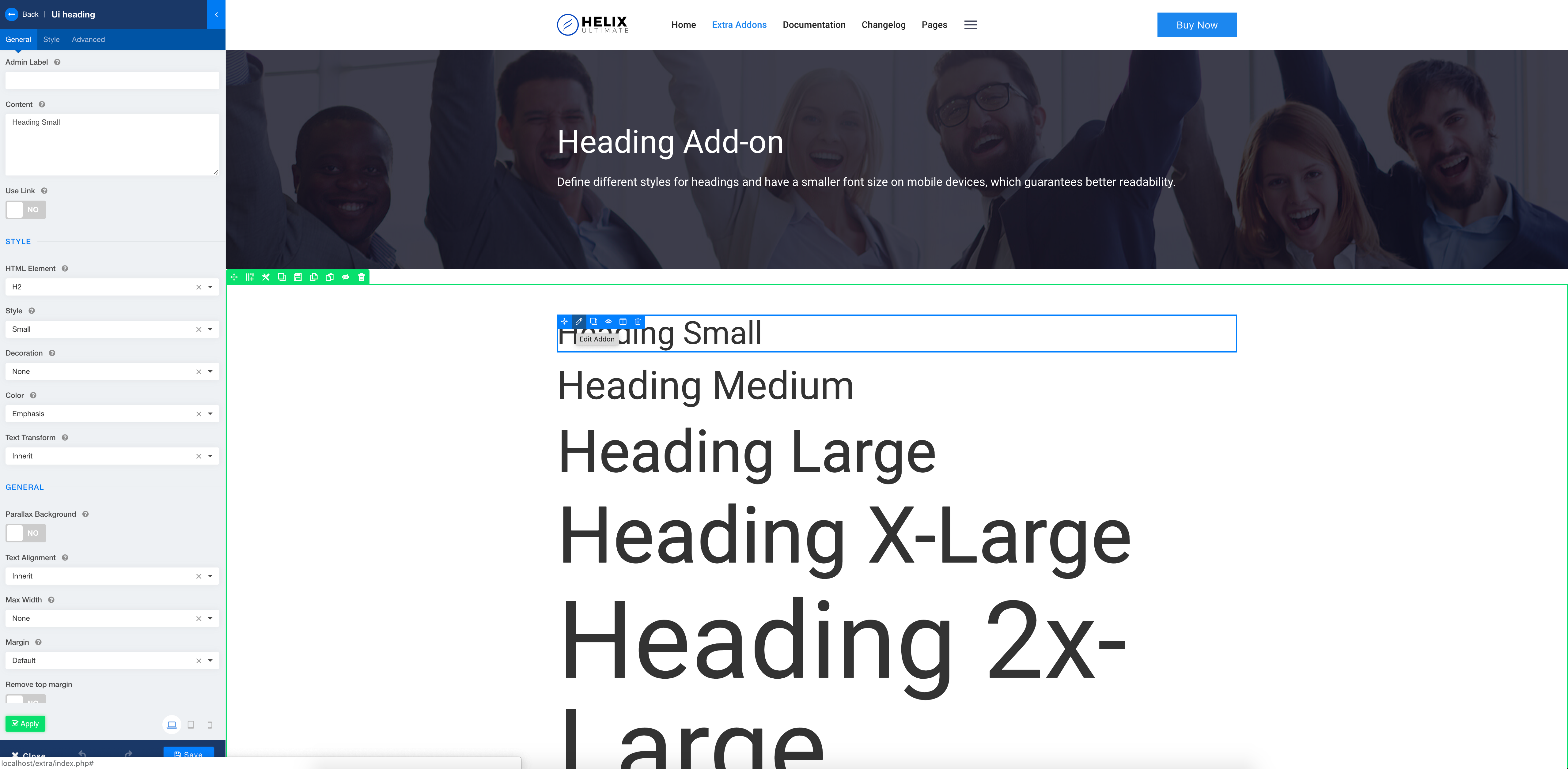 The following table lists the versions that Extra Addons are tested on. "Latest" means that it works just fine on all recent versions of that browser. With many browser moving towards a rolling release strategy, pinning down browser support to a specific version has become a little tricky in recent years. Long story short: Extra Addons will work on pretty much any modern browser.
Latest
Latest
Latest
11+
9.1+
Latest